Chatbots role during covid-19 sanitary emergency – Year 2020 has been definitely awful, but if we want to see a positive side in a pandemic, we may look at the role of technology in helping people and companies dealing with lockdown days.
SOME EXAMPLES about TECHNOLOGY IN THE MANAGEMENT OF THE COVID-19 HEALTH EMERGENCY
Spreading "smartworking" adoption (when possible) and showing how working from home does not affect enterprises productivity and turnover and favours, indeed, the elimination of telecommuting dead times, finally saving working places and people's employment.

Teaching continuity thanks to e-learning. Even though Internet connection is precious for teens, it clearly cannot replace schools' social interactions, but in case of a pandemic, digital classrooms assured education continuity and made exams, certifications and even graduation possible to attend from each student's home…and this will be a valid solution even when the pandemic will be over (in case of students' illness or bad wheather impediments for example), making school skipping very difficult sorry!

Bring AI solutions in government's and institutions' platforms: during Covid-19 pandemic, sanitary chatbots significantly helped to manage people's information's requests regarding symptoms evaluation or sanitay procedures, favouring infection containment and reducing hospitals congestion, as well as providing a source of analytics and data.
Sanitary chatbot worldwide
During 2020, artificial intelligence solutions helped hospitals and sanitary operators in triage calling procedures, sanitary information's requests management, as well as tracking and analysis of infection rates and patients recovery data.
In United States, for instance, the Companies Memora Health and Ro cooperated in releasing an AI chatbot to inform people about prevention's measures, following official OMS information.
Tactio-Health, a remote patient-monitoring service provider, launched its Saas program that allows to monitor symptoms, breathing frequency and temperature of patients at medium-risk, providing decision making data to sanitary operators, allowing the management of available hospital beds and containing hospitals' overcrowding.
Alphabet Group's system Verily, in partnership with United States government, developed a tool for risk screening and evaluation of potentially positive patients, addressing people to the closest testing center.
In Italy, Microsoft Healthcare bot, developed in partnership with Inail, has been introduced since last April in Spallanzani and Santa Maria Addolorata hospitals of Rome and Gaslini hospital in Genova, allowing to safely answer inbound people's information requests and reducing hospitals' overcrowding, helping patients to recognize corona virus symptomps .
Chatbot adoptions in institutional and government platforms solicited by the sanitary emergency is however aligned to the general trend demand about AI solutions, that was already increasing, even before the pandemic.
In a recent article, the research company Gartner pointed out how AI "democratization and industrialization processes" actually dominated year 2020: 47% of investments in AI just remained unchanged compared to 2019, 30% of the organizations are planning to increase investments in AI, while 16% has temporarily suspended investments in artificial intelligence and only 7% diminuished them.
In particular, the Hype Cycle methodological curve, by which Gartner analyses how innovations and technology evolve over time, show how AI industrialization trends are increasing, generating scalability and accelerating AI solutions adoption throughout enterprises.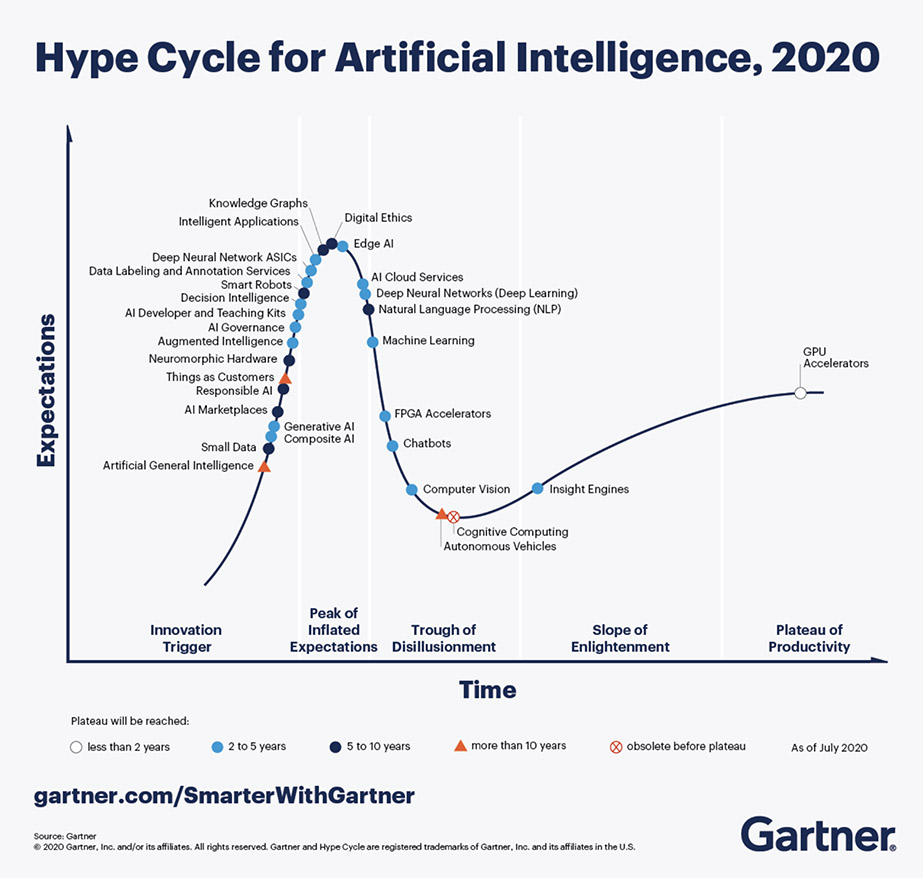 Conclusions about CHATBOTS ROLE DURING COVID-19 SANITARY EMERGENCY
In conclusion, as pointed out by Gartner, artificial intelligence is not anymore an "expert-only" field but several organizations are targeting AI solutios to customers, business partners, sales and operations and Covid-19 pandemy, as every emergency situation in history, just contributed to accelerate the change.
Sources:
https://www.agendadigitale.eu/sanita/ecco-le-chatbot-per-i-sintomi-del-coronavirus-come-funzionano/
https://www.gartner.com/smarterwithgartner/2-megatrends-dominate-the-gartner-hype-cycle-for-artificial-intelligence-2020/
https://www.inail.it/cs/internet/comunicazione/news-ed-eventi/news/news-chatbot-autovalutazione-covid-19-2020.html
https://www.nature.com/articles/s41746-020-0280-0
More from crafter.ai: https://crafter.ai/en/2020/09/10/disruptive-innovation-and-slowly-changing-games/