With Conversational AI you can build personalized relationships with your customers,
employees and partners through one-to-one conversations based
on context data, interests and previous interactions.
" We chose CRAFTER.AI™ because it was the solution that, best of all, allowed us to obtain excellent results, in a simple and extremely usable way for our customers, integrating perfectly with our systems. "
What is
a Conversational AI Agent and

what does it do?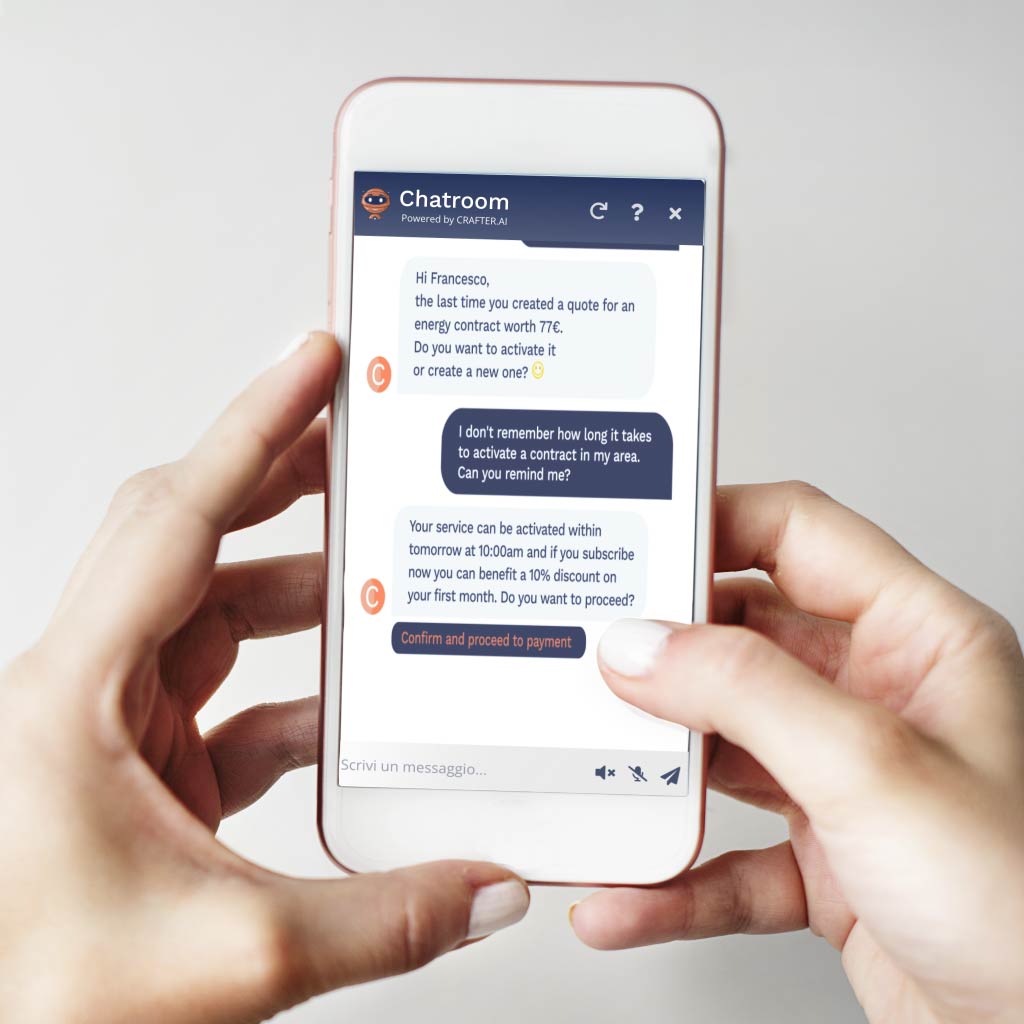 Conversational AI technology manage conversations with humans in a personalized way through natural language, to meet the needs of customers, employees, partners and suppliers.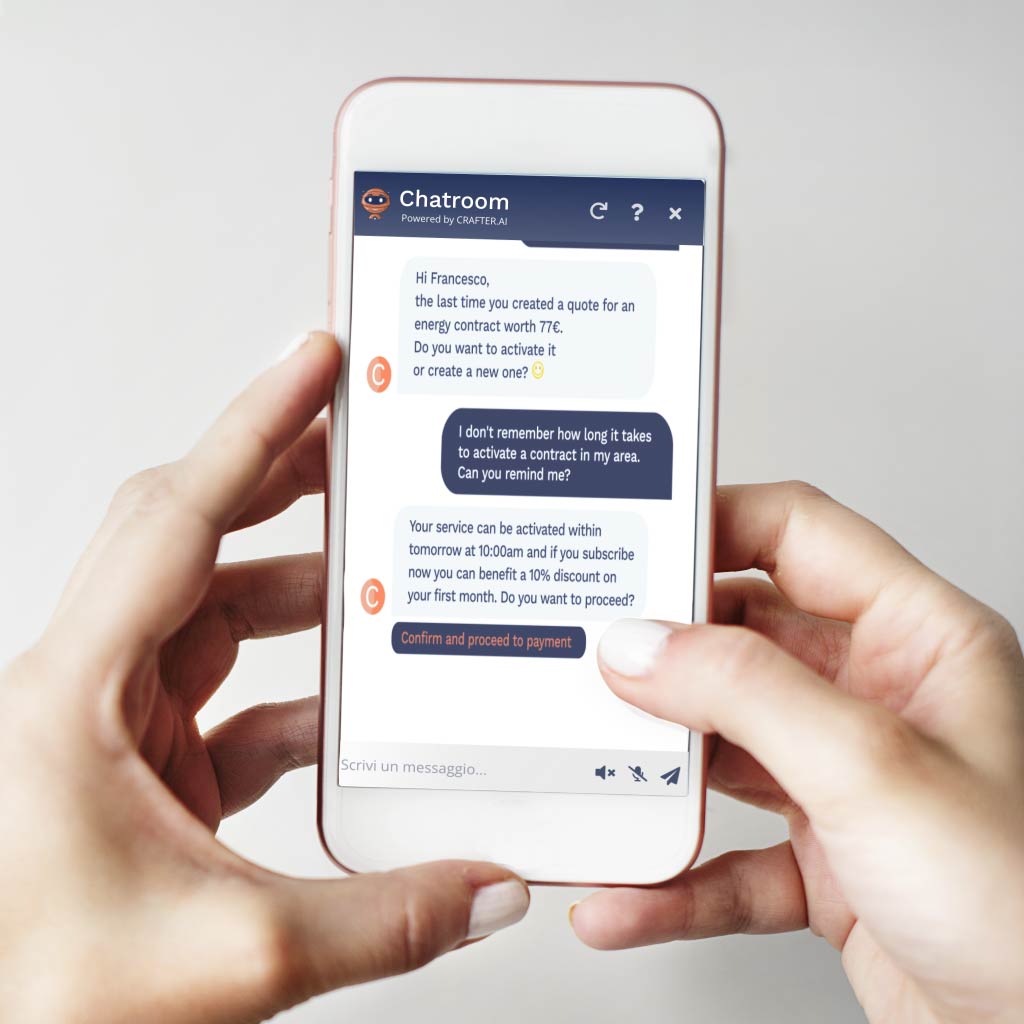 CRAFTER.AI ™ is the platform that allows to create Conversational AI Agents
that manage as much as 98% of conversations with users autonomously.
CRAFTER.AI ™
real

use case

facts
Manage conversations independently
Savings on training costs

60%

60%

Reduction of development costs

90%

90%

Increase in Conversion Rate

23%

23%

Increase in productivity

70%

70%
CRAFTER.AI ™
is a

platform

designed




for

business people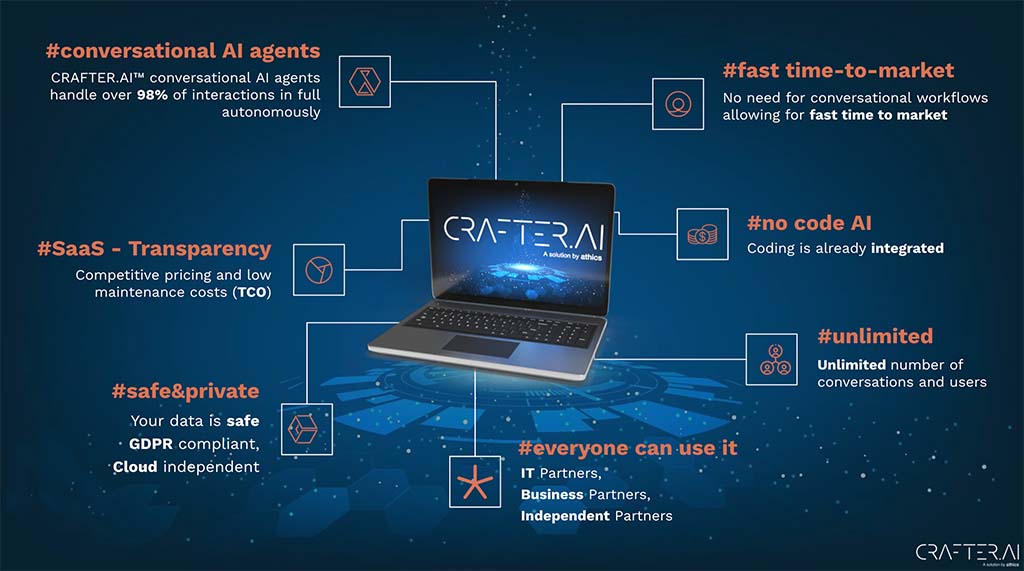 With CRAFTER.AI ™ companies benefit from the advantages
of Conversational AI agents in the fastest, easiest and least expensive way.
The SaaS – Software as a Service cloud platform allows to reuse models
created with other systems (LUIS, Lex, Wit.ai, Dialogflow, …) and optimize investments.
Results on real customers show a 70% increase in productivity,
 90% reduction of development costs.
60% savings on training costs.
O

ur

Conversational AI solutions
Leading companies are integrating intelligent virtual assistants
and machine learning solutions across all business functions.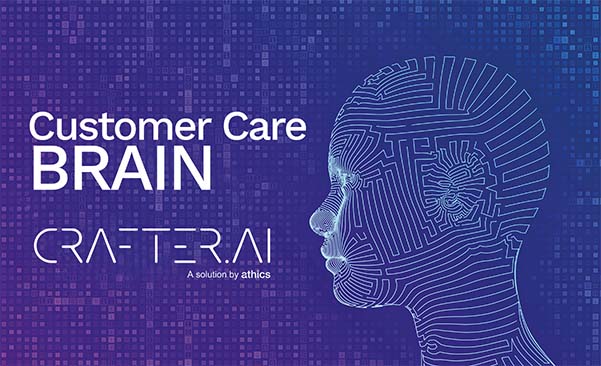 Customer Care Brain
Conversational AI for customer care automation, help desk, call center, post-sales.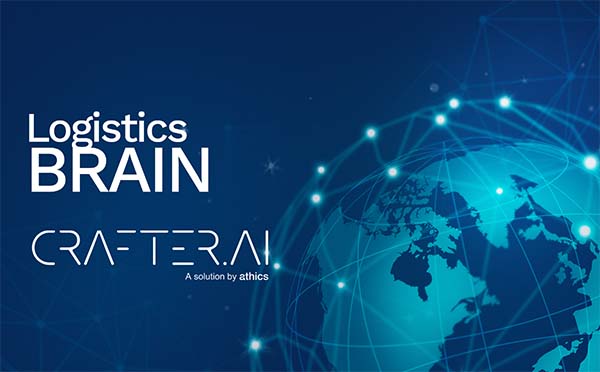 Logistics Brain
Conversational AI for supply chain
and logistics automation.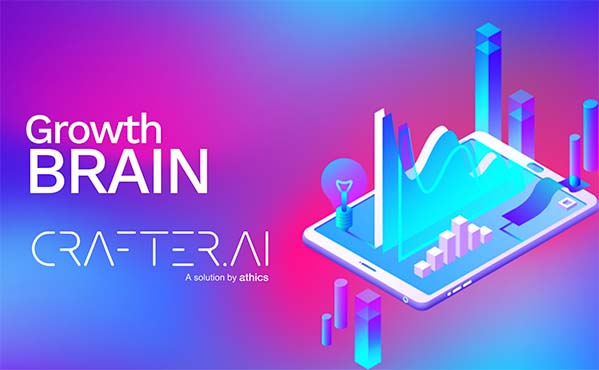 Sales – Marketing Brain
Conversational AI for the automation of online sales and digital marketing activities.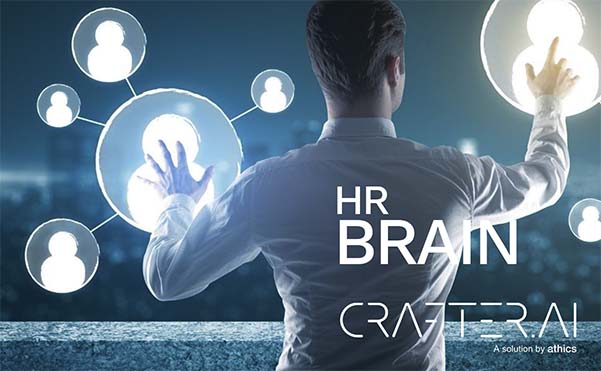 HR Brain
Conversational AI for HR automation: Recruiting, HR administration, Welfare, Performance Review etc.
A

success story

:

Sorgenia's

conversational AI Agent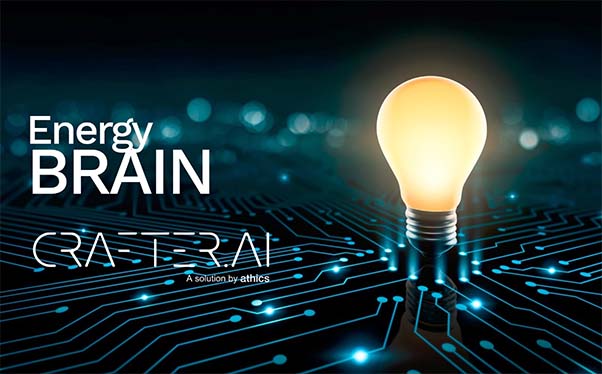 The Energy Brain is currently employed in the Italian Energy Company Sorgenia.
Sorgenia's virtual assistant pursues specific pre-sales objectives:
provides answers to customer FAQs, generates qualified sales leads by retrieving customers' contact information, up-sells and cross-sells products and offers, help customers to fill out forms and to sign contracts, transfer conversations to operators and suggests the correct answers.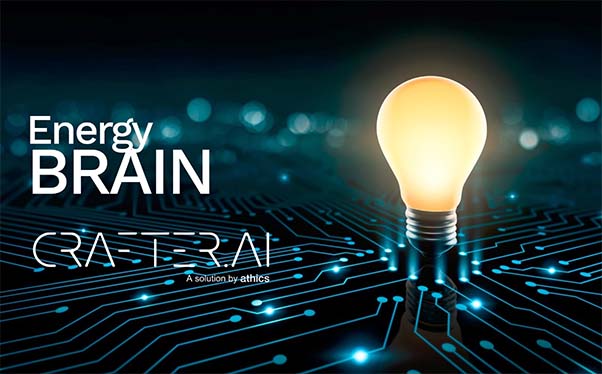 CRAFTER.AI ™


multi-channel

and

integrations

Conversational AI agents allow for building one-to-one relationships with each customer through their favorite channels (Facebook, Instagram, Whatsapp, Telegram etc.)
Furthermore, virtual assistants can be integrated into sponsored ads on social media and increase the conversion rate of marketing campaigns, engaging the user in natural language conversations.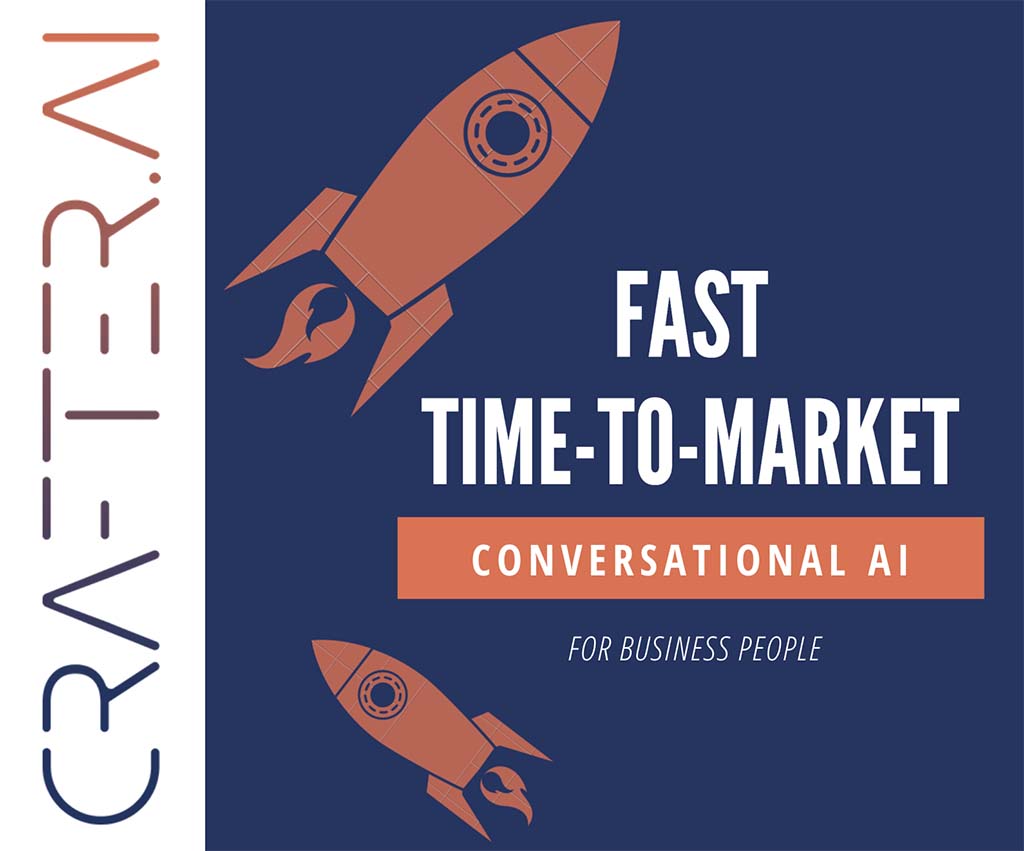 Start
the

conversation


with your

customers

with Virtual Agents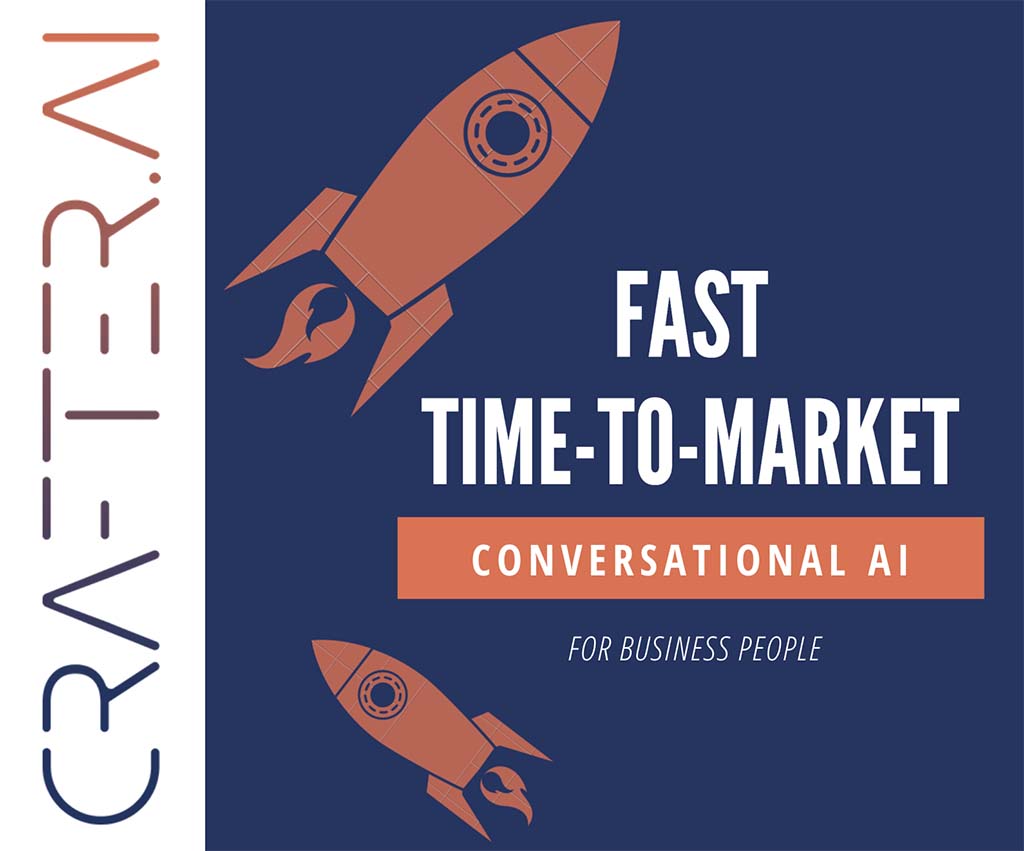 With CRAFTER.AI ™ you can select from a ready to use brains' library the functionality that best suits your needs (Q&A, lead generation, handover etc.)
You can easily deploy your virtual assistant in 6 simple steps. For any customization you may need, we are available to create your conversational AI solution in a few weeks.


You can integrate your ERP, CMS, CRM systems and much more.
Our bots can use the API of your systems (Sap, Microsoft Dinamycs, salesforce.com, etc…) to obtain the information useful to manage the conversation with your customers in the best way.
Our platform contains a number of brains (brains or features) to automate your business processes.
Contact us if you need a custom brain for your specific business domain.
CRAFTER.AI™ Conversational AI agents can speak any language.
Contact us if you need your virtual agent to interact in a specific language.