Who to contact to create a chatbot – What matters most is having a clear idea of your business and I'm going to explain why below.
When the first form of cinema was born, only organized companies with a high budget could afford the equipment and resources necessary to enter this market.
Today we can create a film ourselves, in fact the smartphone we have in our pocket has the necessary power, software and camera to be able to shoot an entire film (and it has been done, here the in-depth link).
A few years ago only large companies could afford to automate their processes because they could have huge funding and resources.
Today, technology has made great strides and the crafter.ai platform was born, dedicated to business people, large and small companies with which they can access artificial intelligence at low, clear and certain costs.
use crafter.ai to create a chatbot
We want to bring automation into companies in the fastest and cheapest way possible.
The operation is very simple, just follow 6 simple steps to create a chatbot, up to production.


Step 1 – WHAT DO YOU WANT TO AUTOMATE?
In the first step you will have to select which functionality your chatbot will run. Below we see some "brains" (list of features) that could be right for you.

The library is constantly changing, as we develop new features, we make them available to our customers.
Step 2 – ANSWER THE SURVEY
At this stage you will have to answer the questions we propose to you.
Unlike to other platforms where conversational flow has to be designed, with crafter.ai you just need to have a clear idea of your business and answer the survey.

The bot will not only answer the questions found in the survey but will also understand the various ways of asking the same question. In the video below an example:
Step 3 – ADD MORE INFORMATION SUCH AS OFFERS OR PROMOTIONS
If your selected brain doesn't have the right information, you can write it in this step.
You can find an example below. We have inserted a new behavior in our bot. When users ask about the demo of our platform they will receive the appropriate information.

This is also the stage where you can enter your marketing activities, for example by writing the latest offers on your products or services.
Step 4 – START YOUR CHATBOT TRAINING
In the training phase, by clicking on the "train" button, you will activate the learning algorithms that in about 10 minutes will prepare the chatbot to answer the questions.

Based on the score you get, you will already have a prediction on how it works.
Step 5 – MAKE SURE EVERYTHING WORKS ACCORDING TO THE PLANS
Before going into production, we developed a test area where we can check that everything is going according to plan.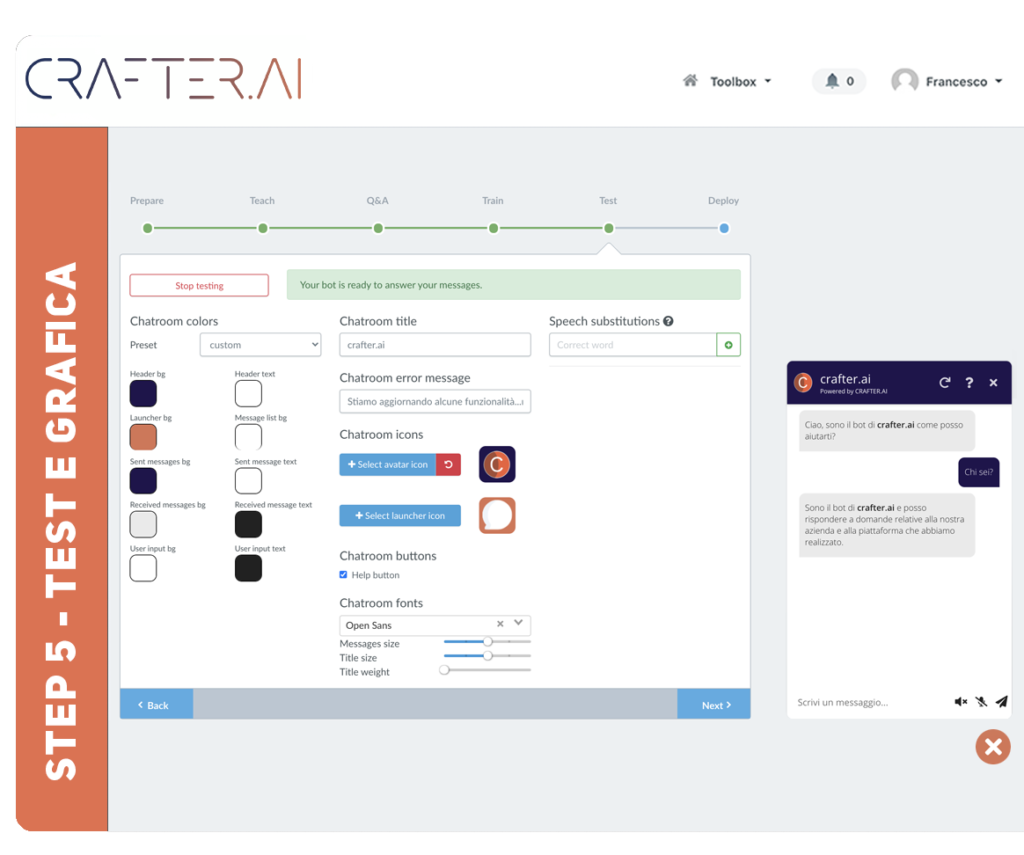 In addition, you can change graphics, logos and colors to let your bot be recognizable with your company's "brand guidelines".
Step 6 – PUT YOUR CHATBOT INTO PRODUCTION
Here we are! We have reached the end of the process.
If this is the first time you create a bot with crafter.ai, you have to insert a simple code line inside the tag <head> of your website (or send it to your trusted web master). Otherwise, you just need to update the bot via the buttons.
Your chatbot will be ready again in 2 minutes.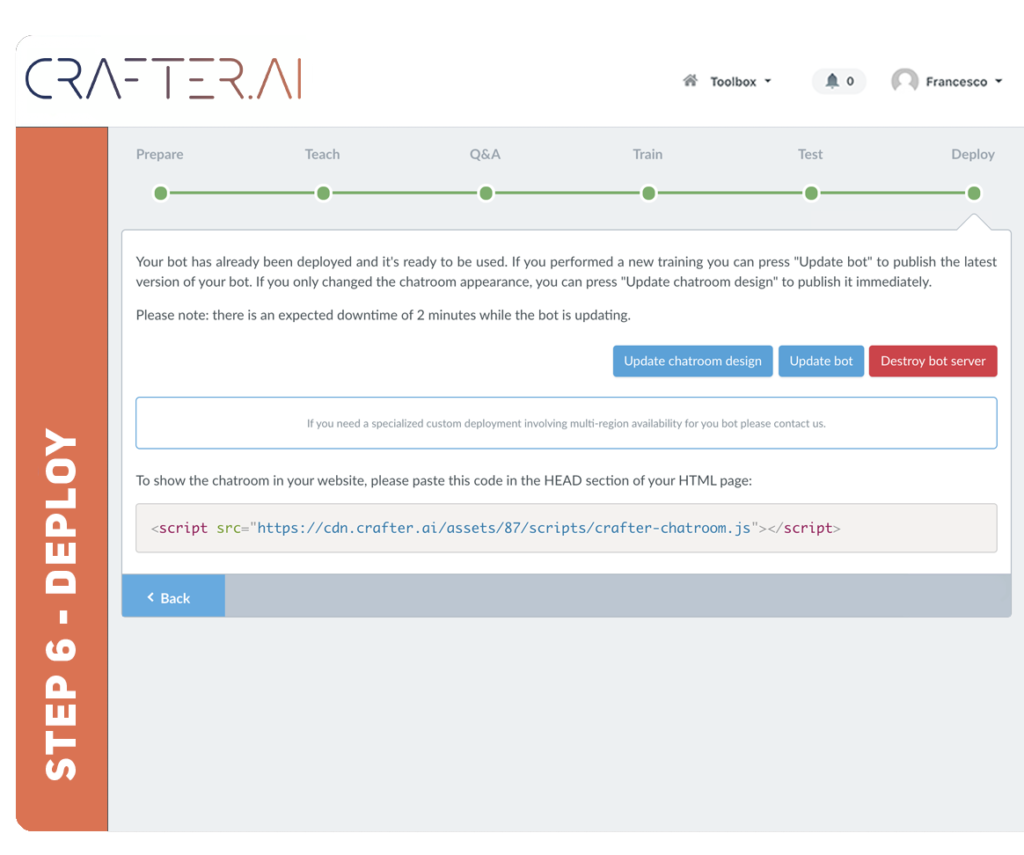 To put the chatbot in other digital channels we manage the integration via API. It's a quick process that we can do or delegate to your IT department.
WHO TO CONTACT TO CREATE A CHATBOT – CONCLUSIONS
Companies, large and small, have a growing need to insert chatbots within their digital channels (website, app, Whatsapp, Facebook, Telegram, etc …).
The chatbot is the best solution for you if you have a lot of traffic to manage.
You can help your customers understanding what services and products you sell, by improving the relationship with the customer, generating leads, automating repetitive requests or automating the call center, the customer support, your management system and much more.
Correct, there are many online platforms that allow you to automate business processes but to obtain good results you must have internal technical people as a data scientist.
You can rely on the support of the platform itself, spending more money without perhaps having the degree of quality you were looking for.
If you are thinking on contact an expert to create a chatbot, we suggest you to try our platform for free for 30 days or request a free demo to show you how we can help you.