Warehouse automation – Gartner research "Chief Supply Chain Officer Leadership Vision 2022" identifies 3 critical areas in supply chain management in 2022.
Faced with the shortage of materials, global interconnection, the growing attention to environmental sustainability issues, CSCOs must move from a risk reaction strategy to a risk planning strategy.
In addition, the transition to a hybrid work model, accelerated by the Covid-19 pandemic, calls on supply chain leaders to redesign the work experience and redefine operational roles, through the use of technology.
By 2026, more than 50% of large organizations will compete in collaborative digital ecosystems, rather than as separate companies, sharing inputs, resources and innovations.
Artificial intelligence to support decision making and a "modular" supply chain model will allow companies to adapt their production model to the needs of their interlocutors within their own "competitive ecosystem", where warehouse automation play its part.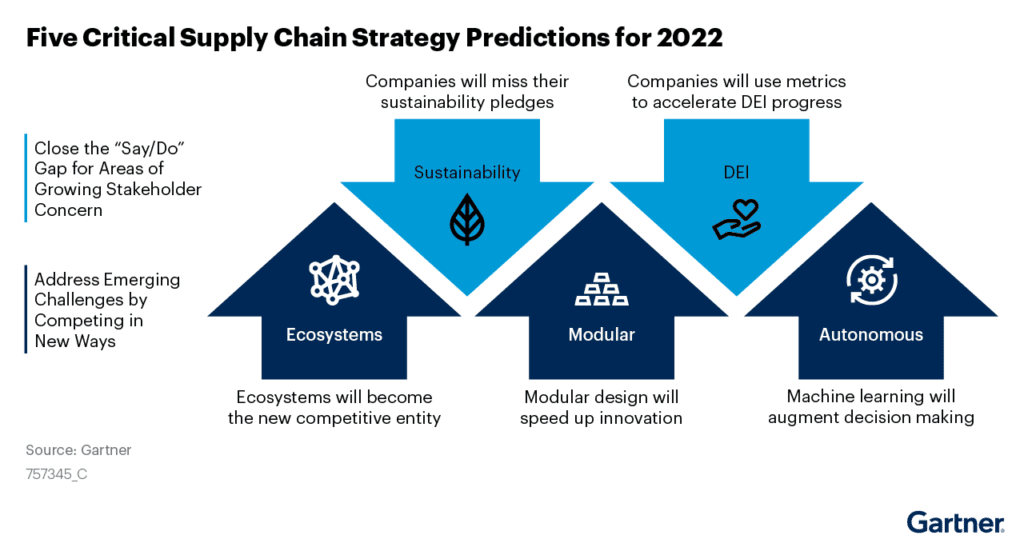 warehouse automation with virtual agents
According to Gartner, ecosystems that share end-to-end supply chain information in real time will be able to provide a better and faster response to unexpected changes in supply or demand.
The ability to change your operating model quickly and easily will result in a competitive advantage, safety and cost containment.
In this scenario, conversational AI represent the technology capable of optimizing processes and mitigating the criticalities of the supply chain process by facilitating access to data in natural language and favouring warehouse automation.
faster lead time
Delivery time is the key indicator of the supply chain.
The virtual assistants for warehouse automation can support the phases of monitoring, reporting and improvement of the paths, facilitating access to data and the exchange of information.

Supply chain analysts and managers can request updates from the bot by simply asking a question. The bot can aggregate data from multiple sources in the backend, process it, and present it conversationally.

Thanks to conversational AI, the supply chain manager can monitor each moving piece in real time and identify any bottlenecks, shortening the process and reducing delivery times.
Chatbots may reduce inefficiencies in the supervision process along the entire supply chain delivery times are shortened.
AUGMENTED WORKFORCE
Within a warehouse automation strategy, chatbots take on repetitive tasks such as manual order entry and other data entry activities, such as customer profiling, leaving people the time to invest in more productive activities, while reducing the margin of human error in manual activities.
Virtual agents provide managers and supply chain employees with real-time information on the status of the order and shipment, as well as, the products' details and the orders' history.
This information can be returned to authenticated end customers in parallel, integrating customer engagement and upselling actions based on previous purchase preferences.
In supply chain and AI working environment, virtual assistants support daily operations, improve work activities, increase human potential.
Soruce:
https://www.gartner.com/en/articles/the-rise-of-the-ecosystem-and-4-more-supply-chain-predictions
You may like:
https://crafter.ai/it/2021/05/20/i-chatbot-nel-manufacturing/