AI for the business – The greatest changes over history have always been triggered by critical events that tested human brain and skills to cope with emergencies, and Covid-19 pandemic is certainly one of those.
The sanitary emergency has changed the way people live and work putting technology at first place: even if work offices have been physically closed, work hasn't stopped, workers still need office productivity tools, customers keep calling for products and services. Infact, during 2020, popularity of applications such us Google Meet or Zoom has arisen.
On the other hand, not everyone was found prepared.
In "The future of work" report, the American software company Pega interviewed a panel of 3.000 senior managers and frontline IT employees about how the way of working is changing: 85% of respondents agree that technology will definitely change the job's market within the next 5 years.
Companies such as Amazon, Facebook or Google were more than ready, while only 28% of the panel declared their companies as ready to face "Covid-19 new way of working" and one third of the entire panel said there were "not well prepared" or "un-prepared".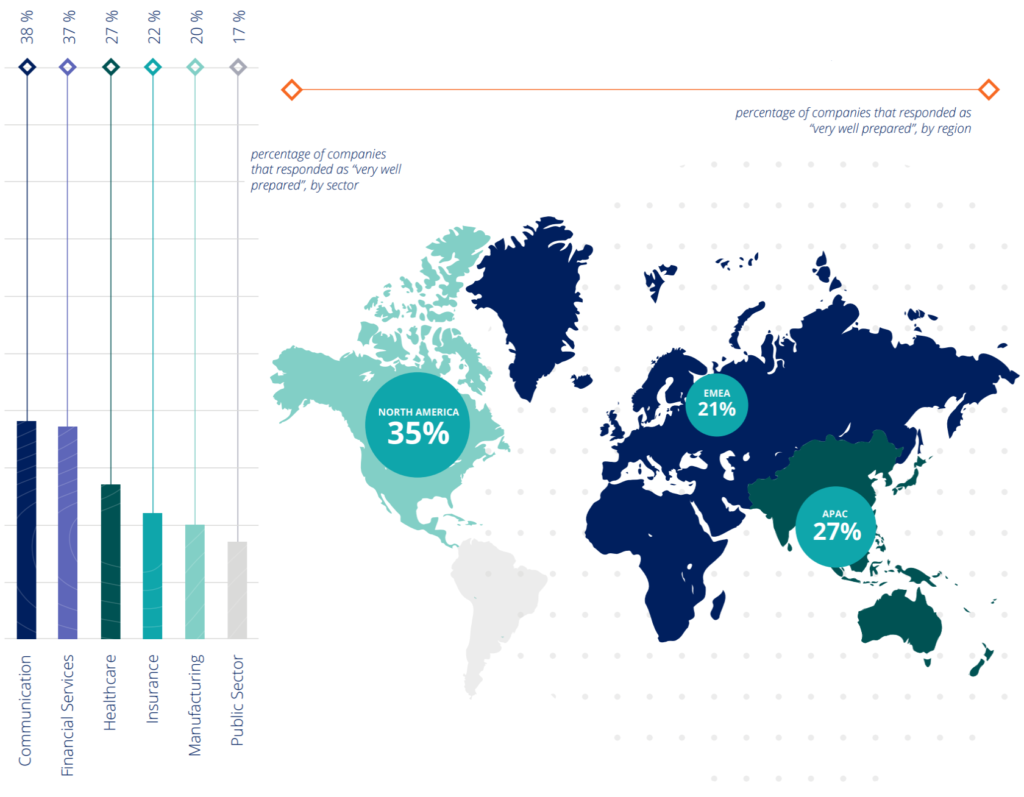 However, the general trend is a massive investment in technology solutions, that became a priority in organizations' and institutions' agenda, even considering that, according to experts, Covid-19 pandemic won't be the last pandemic we will have to deal with.
84% of organizations consider a priority to get ready for any possible future sanitary emergency, introducing key technologies such as:
Intelligent automation
Artificial intelligence (AI)
Cloud-based solutions
In particular, 51% of the panel declared they would invest in cloud solutions and artificial intelligence:


Current investments in technology are mainly aiming to improve processes' efficiency, benefit employees and reduce costs through Business Process Management, Deep Learning, Machine Learning, Robotic Process Automation (RPA).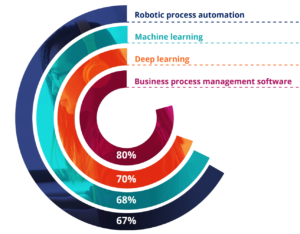 AI for business: areas of application
AI for the business – A survey conducted from Vistage Executing Coaching company, reports how 29,5% of CEO of small and medium business consider AI as an important part of their processes, such as:
Customer Relationship management
AI implemented in CRM allows to collect and analyse data and customers' feedback to design sales and marketing strategies, maximizing leads acquisition.
Many companies are using chatbots to handle customers' recurring inbound requests, to alleviate customer care agents workload and to optimize customer care performance, working 24/7.
Thanks to AI is possible to streamline companies recruiting processes, such as CV screening procedures, onboarding and traning of new hires. AI systems can filter candidates profiles that match companies' needs and provide a knowledge base to answer new hire information requests.
AI systems work as a competitive analysis tool that allows to analyse data and competitors' online content (web pages, video, social media) providing a strategic frame through reports.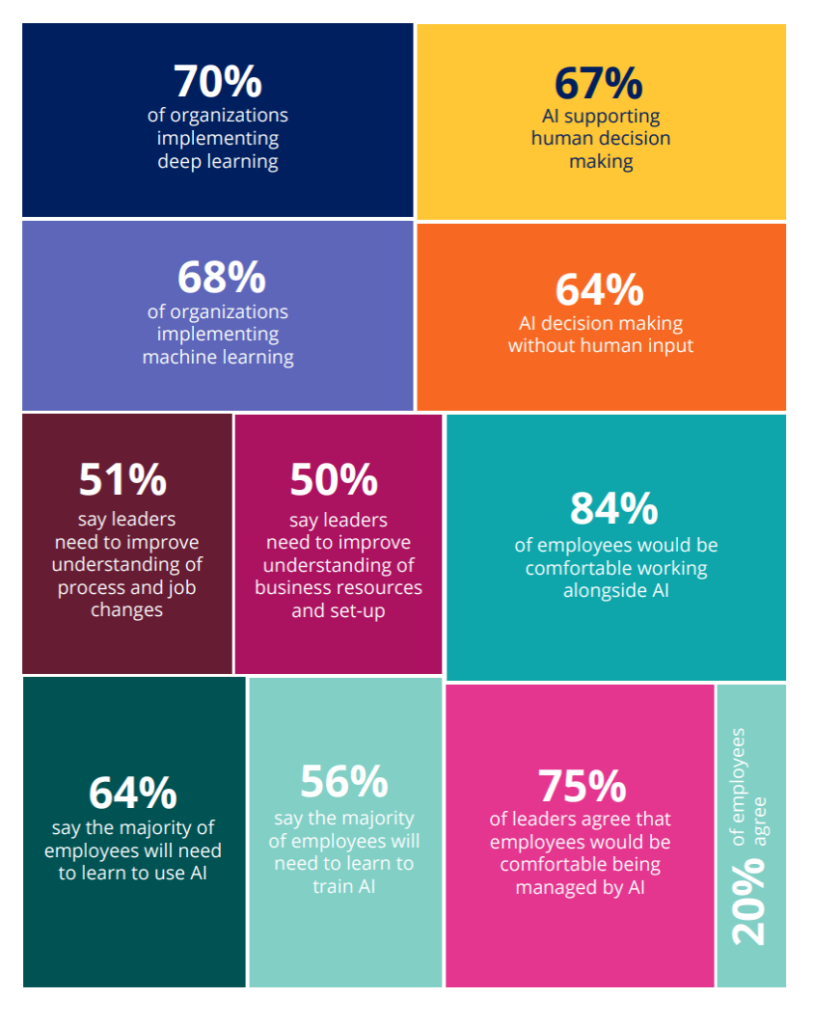 As shown in Pega's report, intelligent automation added value is clearly perceived by people considering that :

73% of the panel already think to the word "workforce" as a union between man and machines;
74% declares that automation solutions increase customers' satisfaction;
72% says that intelligence automation decreases stress levels in the workplace;
71% says that automation increases employees satisfaction.
Despite the common perception that automation is just a way to reduce the human workforce, it actually creates and improves jobs.
So is more plausible to think about a future where jobs will change deeply while AI and machine learning will be used as tools to support human work, allowing people to better manage their time.
Source:
https://www.forbes.com/sites/forbesfinancecouncil/2019/04/09/four-ways-artificial-intelligence-can-help-your-small-business/?sh=2a70c3974a1a
https://www.pega.com/system/files/resources/2020-10/pega-future-of-work-report.pdf
You may also like:
https://crafter.ai/it/2020/12/03/chatbot-digital-marketing-e-i-social-media/