AI hyperautomation in business companies – A mix of new technologies, market needs and new corporate dynamics is changing the way we work, make transactions and handle our daily life activities.
As reported in Pega Systems Report "Future Proof Technologies 2025" these changes open to a question: "How do we know if our company is keeping the pace, or better yet, setting it?"
Pega's survey aims to answer this question, examining 5 technological trends and their impact on several industries:

1. Hyperautomation,
2. Distributed cloud,
3. AI governance,
4. Extended edge,
5. Extended reality.
Today we are talking about hyperautomation.
what is hyperautomation?

AI hyperautomation in business companies – Hyperautomation is the use of artificial intelligence, machine learning, robotic process automation and other advanced technologies, such as Conversational AI, to automate and simplify business processes."
"Hyperautomation is an aid to increase exception managements, efficiency and customer experience".

Pega – Future Proof Techlogies 2025
Forrester predicts that Robotic Process Automation segment will reach 12 billions dollars by 2023.
Anyway, while leaders are automating 80% of simple processes, like IT ticketing and data processing tasks, laggars have automated just a 20% of these basic activities.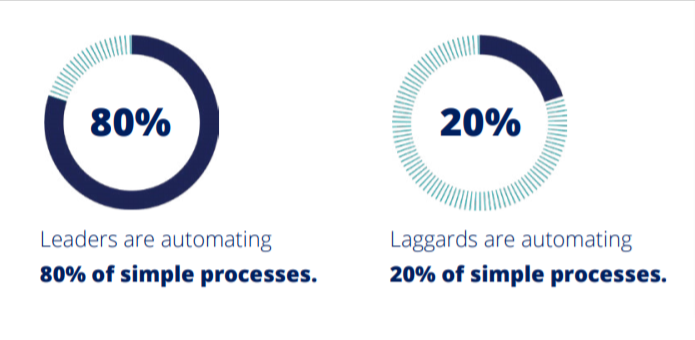 AI hyperautomation in business companies
AI hyperautomation in business companies – Pega's survey results show that leaders across all industries are concerned about hyperautomation's impact on cybersecurity in vendor ecosystems and compliance protocols for the use and storage of data.
Also, many respondents think that the technology could disrupt how enterprises interact with their employees, customers and vendors.
Infact, 55% of them expect these impacts within the next 5 years.
Hyperautomation is influencing production, data management, finance and workflows.
Success of deployments depends on operations and processes' consistency, especially in case of upheavals such as the coronavirus pandemic that required enterprises to develop new automated solutions quickly.
"We must continuously build our solutions, especially during this crisis when there is no investment in building more workforce," said one respondent from a Brazilian Financial Services company.
Many interviewers' common question is "How can automation help them support customers through transitions?"
While others are seeking solutions that will help them to make their customers and vendors' interactions more personalized and dynamic.
Hyperautomation simplifies processes, such as invoicing and payments, and reduces processes' redundancies and costs.
In Financial Services, for example, data management, finance and production are early-wins areas, followed by customer service and marketing, while partners ecosystems and supply chain are expected to get impact in the next 5 years.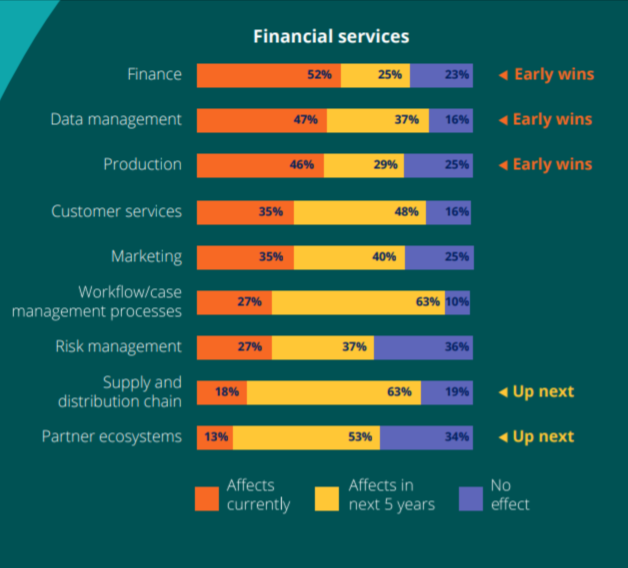 In general, leaders perceive that technology adoption enhances the enterprises' shared ecosystems; in particular, leaders apply automation to get help to identify and focus on the exceptions and refinements within operations and customer experience.
Source:
https://www.pega.com/system/files/resources/2021-04/pega-2025-tech-trends-report.pdf?_rid=YToxOntzOjM6Im5pZCI7czo2OiIxMDQzOTEiO30-
You may be interested in: