Chatbots smart market – According Business Insider, global sales volumes generated by chatbots will reach 142 billions dollars by 2024, while chatbots' market value will reach 1,3 billions dollars by 2025.
Companies interest for this technology grew 5 times in 5 years and 50% of enterprise companies are considering more investments within 2021.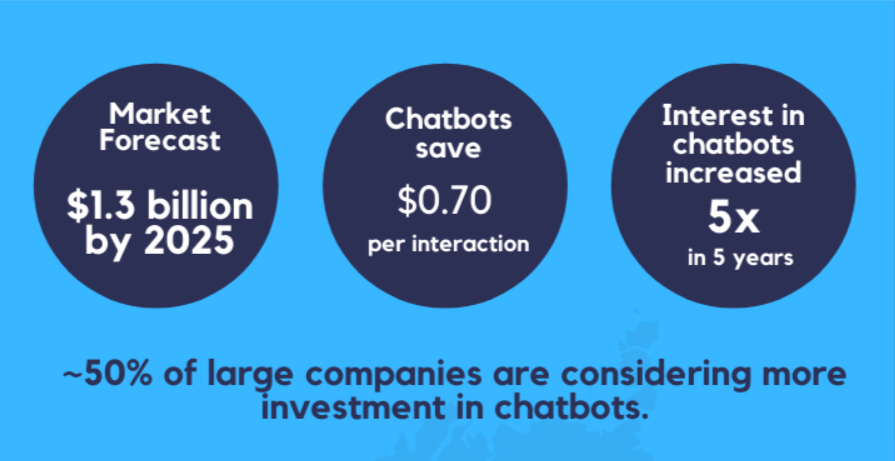 According to research data gathered by "AI Multiple", chatbots will handle a range between 75% and 90% of customers' requests by 2022.
In 2018 only 1% of B2B companies implemented chatbots; today 58% of B2B companies are using a chatbot technology in their processes.
In particular, 53% of companies use chatbot in IT, 23% in administration, 20% in customer service and 16% in sales and marketing departments.
chatbots smart market: customers' expectation
More than 50% of clients expect 24/7 customer's assistance, anyway, 40% of customers do not care if they are being assisted bya bot or a real agent, as long as their question gets answered.
69% of the panel prefers chatbots to get real-time information and in general for customer service inquires; 86% think chatbots should always have an option to transfer to a live agent.
In general, prefer to interact with a bot when thay need fast answers to solve a problem or for purchase information.
47% would by items via chabot and 34% considers bots a fast way to be addressed through a human assistant.
80% of consumers that interacted with a bot report a positive user experience and 27% couldn't say if they were talking with a bot or a human.
The main benefit that is perceived is a good level of service and user experience.
business results
According to Forbes, business people refer an average sales increase of 67% thanks to chatbots, while 57% reports a large ROI on a minimal investment.
80% of the panel reports measurable improvements in terms of customers' satisfaction, of service level and contact center performance, while chatbots take care of 80% of recurring customers' requests.
Consumers and businesses are expected to save over 2.5 billion customer service hours by 2023 and chatbot automation will lead to $23 billion in savings from annual salaries.
industry specifics data
Chatbots smart market – Top 5 industries that benefit from chatbots are real estate (28%), travel (16%), education (14%), healthcare (10%), and finance (5%).
In Finance, chatbots will successfully handle 90% of interactions by 2022, with an average saving per interaction of $0.60.
For example, JP Morgan's chatbot "Coin" contributed to save over 360.000 working hours, by automating complex contracts back-end analysis.
In travels segment, 33% of customers would use a bot to book hotel and restaurants, while 37% would prefer interacting with a chatbot for travel scheduling and booking options' comparison.
Chatbot "GReaTa" owned by GRT Hotels & Resorts generated more than 175.000 within two-and-a-half-months of its launch.
By 2023 more than 70% of chatbots will be implemented in retail segment. In particular, clothing is the most popular product type sold online with the assistance of chatbots. Next are health products (9%), furniture (9%), electronics (8%), and jewelry (8%).
By 2022 35% of organizations will integrate a chatbot in their recruiting and job application processes.
58% of candidates already reports a positive experience with chatbots during first steps of a recruiting process, and 66% feels comfortable in scheduling an interview through a bot.
In conclusion, companies are discovering Interactive AI potential in process automation, business productivity, and customer experience.
Artificial intelligence is rewriting customers' and organizations' communication's rules while new competitive scenarios are emerging, where being digital is not enough if there is no "intelligence".
Source:
https://www.businessinsider.com/chatbot-market-stats-trends?IR=T
https://research.aimultiple.com/chatbot-stats/
You may also like: