What makes our platform

unique?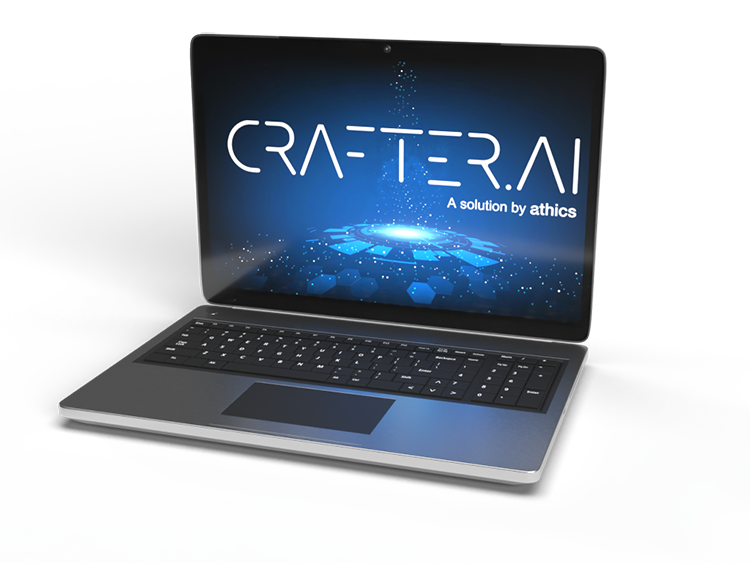 Using crafter.ai for chatbot creation gives you great benefits.
1. Everyone can automate business processes without having AI knowledge.

2. Our chatbots are designed to scale up as your business grows.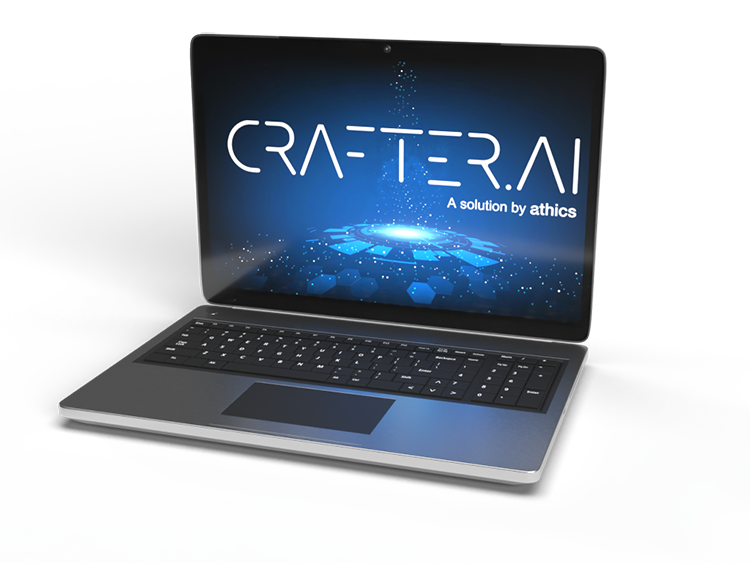 ease of use
and

performance 

are our

missions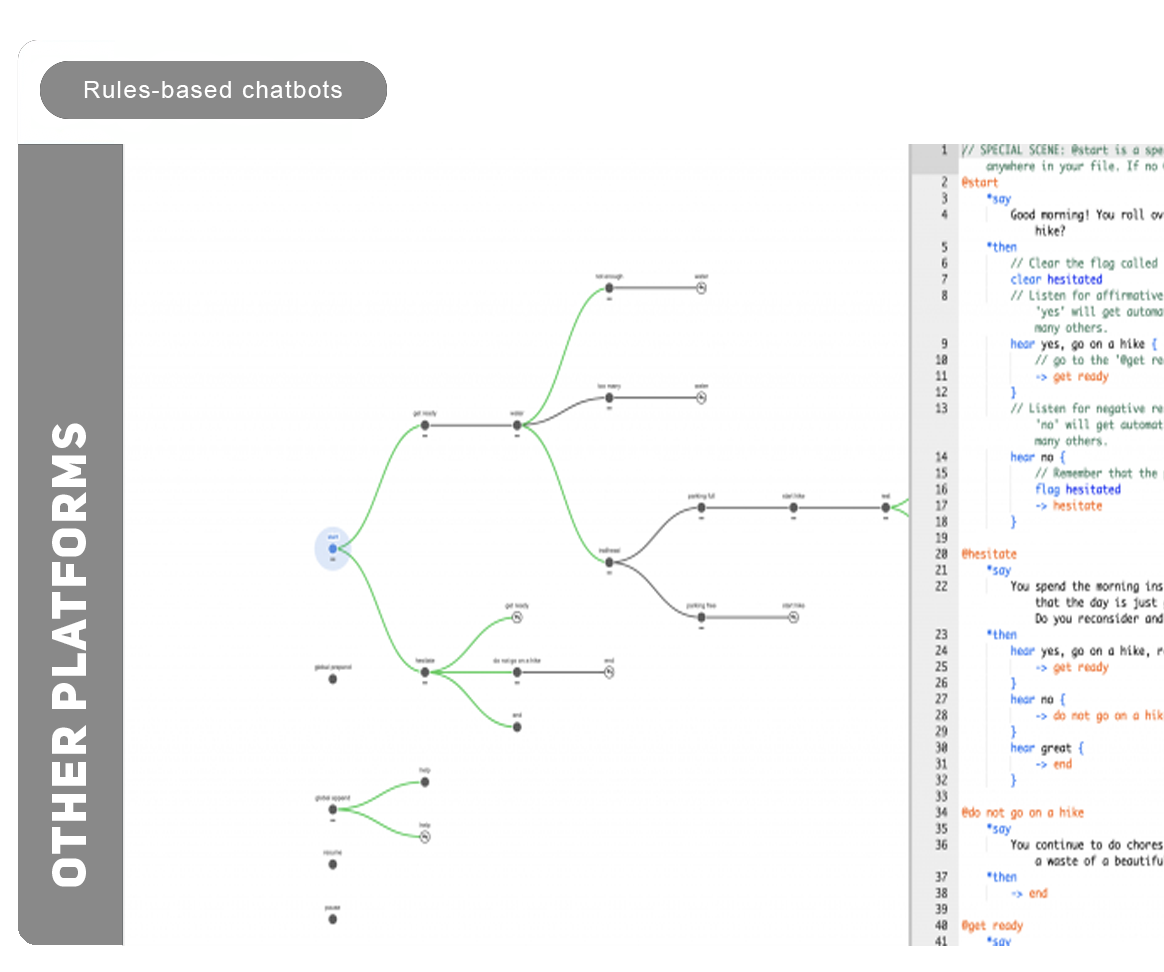 MODELING COMPLEX CONVERSATIONAL FLOWS IS A DIFFICULT task THAT OFTEN hilights many platforms' pitfalls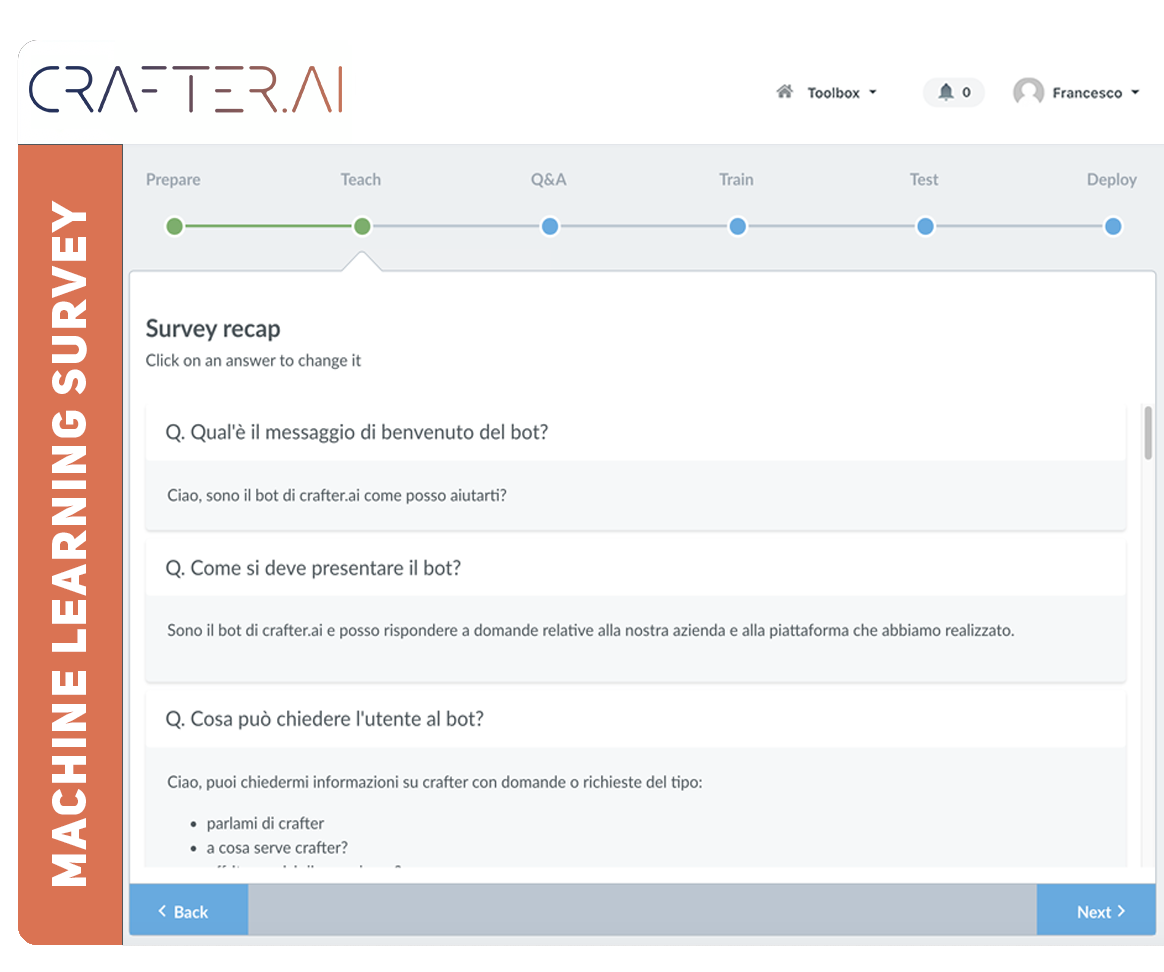 WITH CRAFTER.AI, THERE ARE NO LIMITS on THE COMPLEXITY OF THE CONVERSATIONS you can model AND THE MANAGEMENT COSTS ARE MUCH LOWER.
Not
every

chatbot

looks the

same!
RULE-BASED BOTS
Rule-based chatbots force users to follow one-direction conversation flows, their linguistic models are hard to maintain and are exposed to computational explosion risks.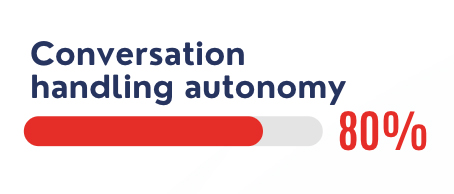 The performance level of the average currently available solutions is between 60% and 80%.
Best case scenario, 1 customer out of 5 is unsatisfied with the interaction with the bot.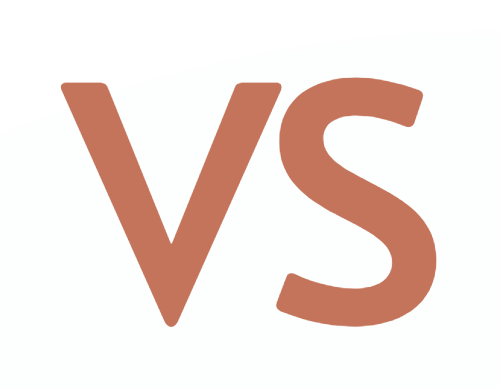 CRAFTER.AI™ CHATBOTS
Crafter.ai chatbots do not force users on one-direction conversation flows and allows to create linguistic models easy to maintain.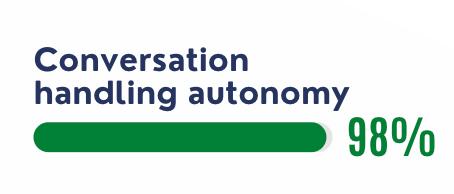 crafter.ai conversational AI agents can handle over 98% of conversations with full autonomy, thanks to machine learning context understanding.
The error margin is reduced below 2% and keeps improving over time.
Conversational

AI

Agents:


second generation

smart

chatbots
The conversational AI market is rapidly growing.
Our SaaS platform for chatbots creation expands conversational scenarios with your customers and employees and optimizes your customers' experience.
Let's see together how second generation chatbots may be implemented in several industries and business functions.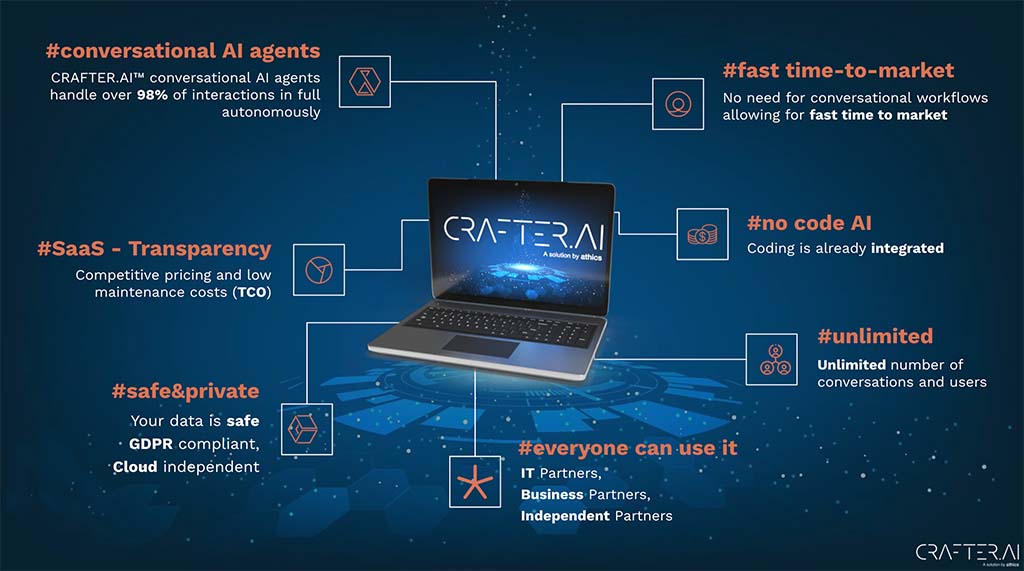 We have chosen

the best technological components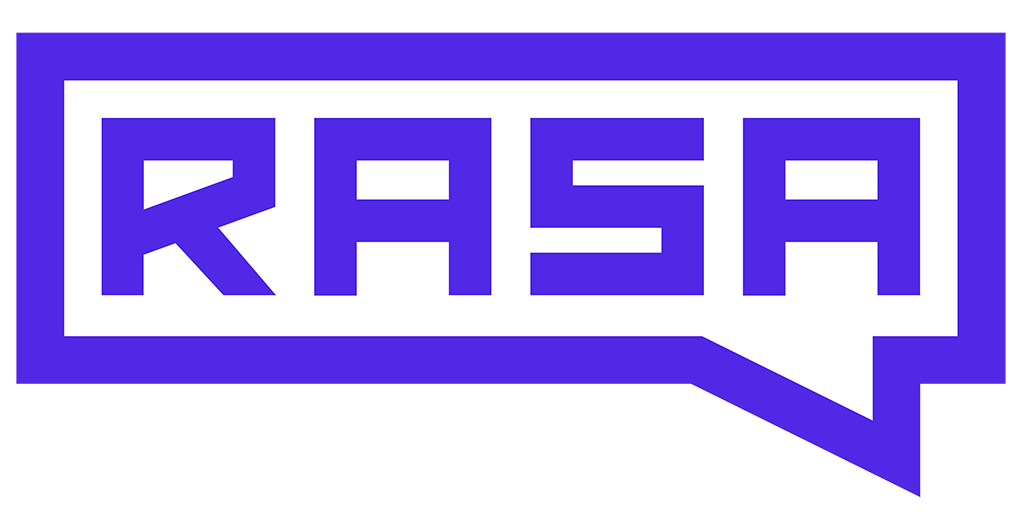 highly performing open source

framework
Rasa allows you to integrate the best software libraries dedicated to artificial intelligence.

Natural language processing
library
We use spaCy to analyze sentences, recognize the entity, support more than 50 languages, understand syntax and many other elements that are fundamental for an efficient pipeline. 


TensorFlow is the engine we use for training deep neural networks.
Thanks to the correct use of TensorFlow, our bots are better able to predict the conversation flow.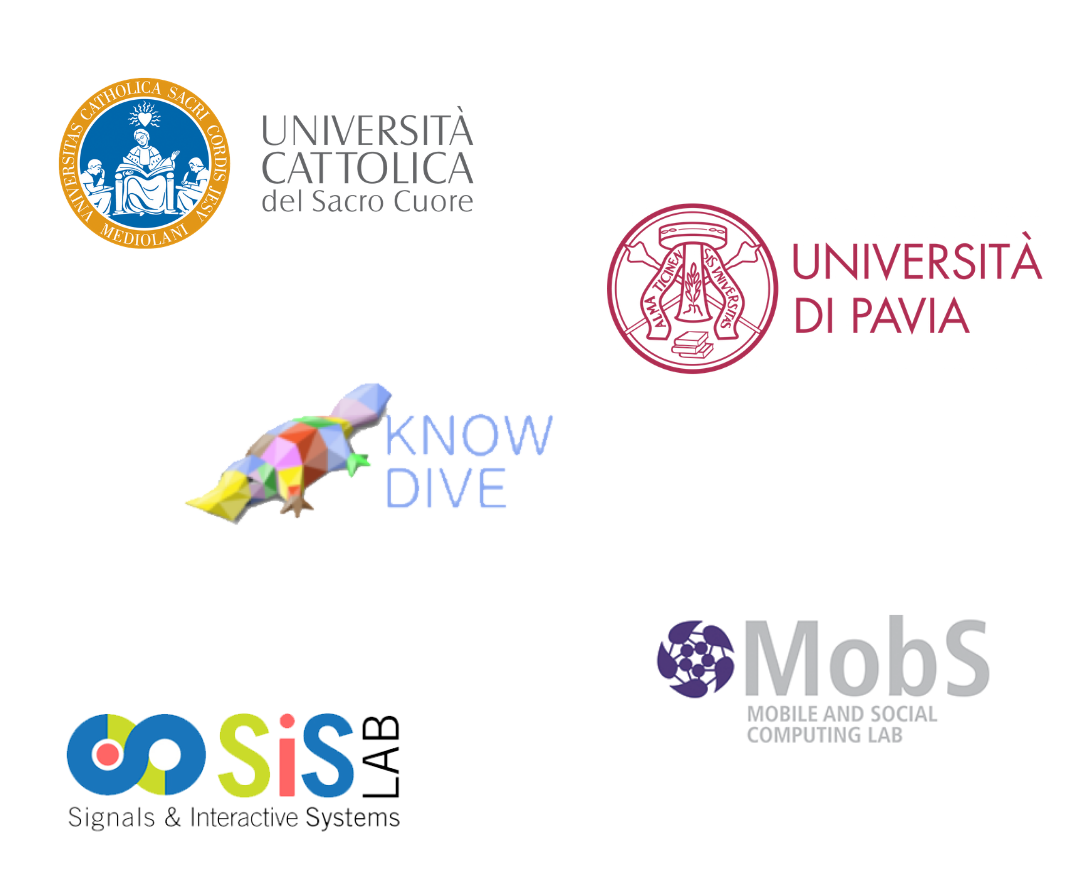 security

is essential for a growing

business
Our platform is compliant with the most advanced security standards.
Each user has ownership and control on their data.
We will contact you just to schedule your demo day.
You can integrate your ERP, CMS, CRM systems and much more.
Our bots can use the API of your systems (Sap, Microsoft Dinamycs, salesforce.com, etc…) to obtain the information useful to manage the conversation with your customers in the best way.
Our platform contains a number of brains (brains or features) to automate your business processes.
Contact us if you need a custom brain for your specific business domain.
CRAFTER.AI™ Conversational AI agents can speak any language.
Contact us if you need your virtual agent to interact in a specific language.