your chatbot's

ANALYTICS

to help you shape 


the future 

of your company
Analytics help you get a clear understanding of what happens in the conversations between customers, chatbots and call center operators.
Clear data
to analyze

conversations
Knowing the questions that interest your customers will help you serve them better.
Manage your resources in a better way.
Let your call center handle just the most critical calls while your bot takes care of all the repetitive conversations.
Our bots are able to acquire leads and close contracts independently.
Leverage analytics to discover new ideas for engagement.

Your command center to

improve the performance

of your

call center operators

and your

marketing initiatives
make

decisions

based on

real data
Understand how a campaign is doing, what are the most successful promotions, what is the workload of your resources, understand the greatest concerns of your customers and analyze the performance of the operators and of the chatbots.
know your
customers
, their
habits
and
level of satisfaction
Your chatbot will be able to report the most important kpi such as:
1. Contracts closed by the bot
2. Number of leads generated
3. Better conversation flow for selling
4. Reactive and proactive bot conversations
5. Real Operator Performance
6. Problems of understanding
7. Abandoned conversations
and more…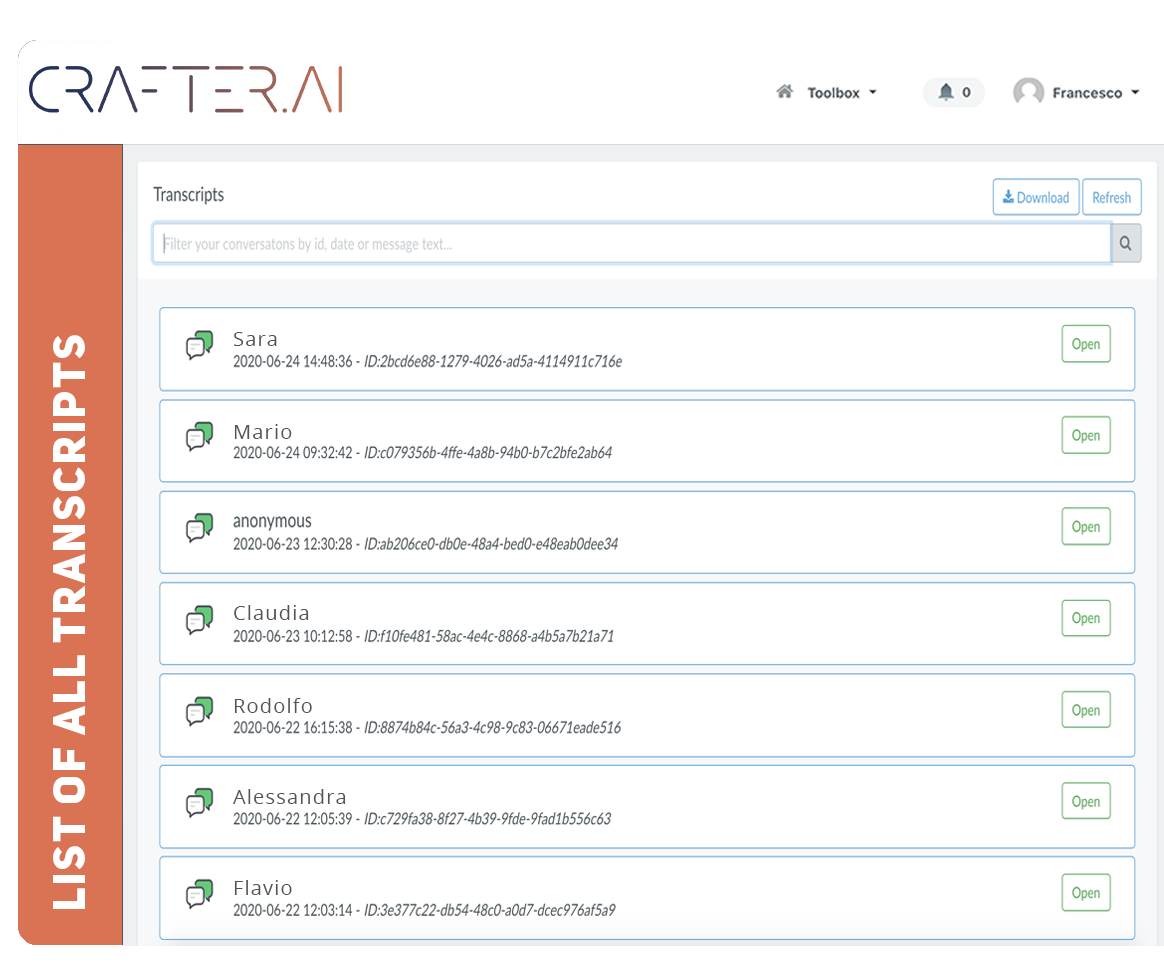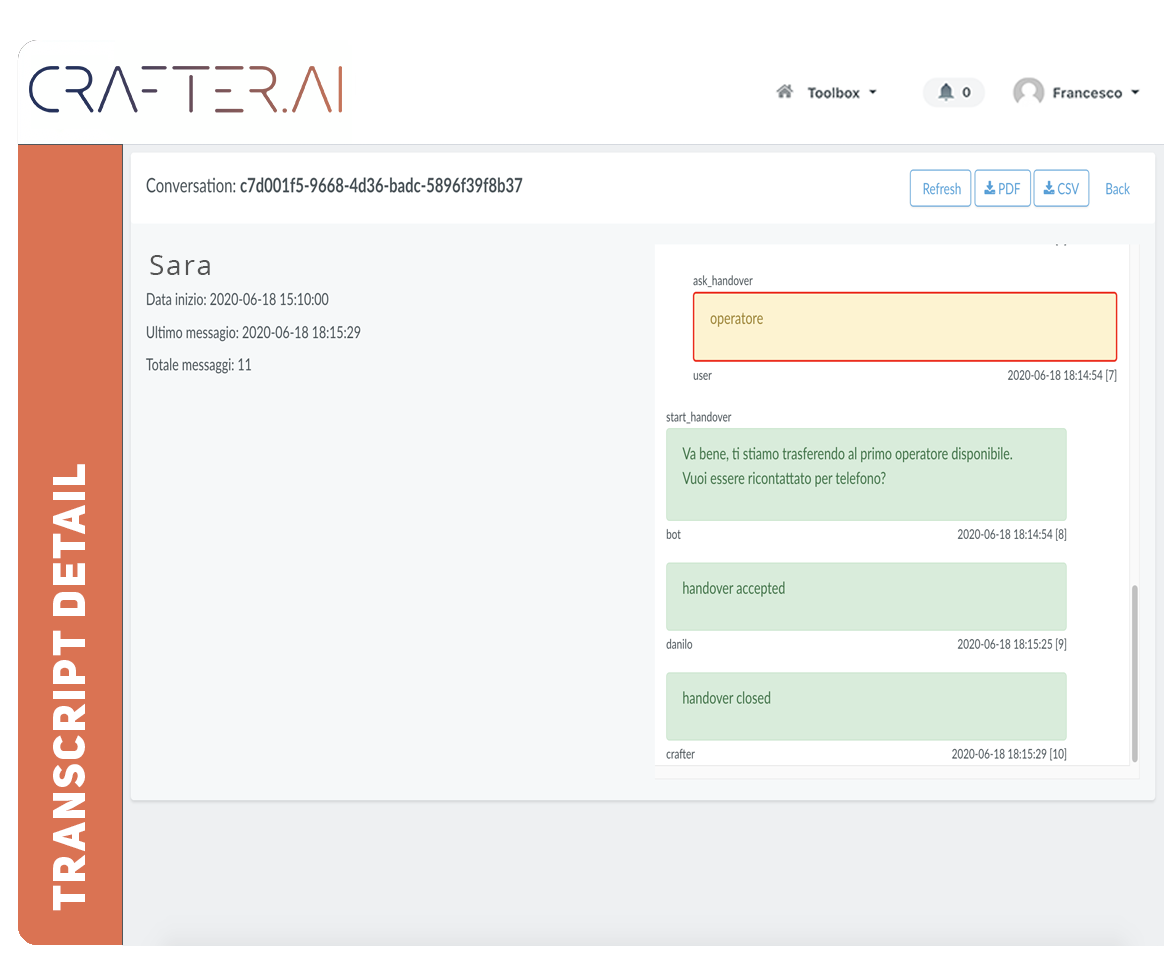 Get all the

details

on your clients' conversations
Use our analytics for a detailed analysis on each conversation or download your data to analyze them with your favorite BI software.
how many customers 
did you get thanks to the

lead generation module?
Get into the conversation between your customers and find out what was the key elements that led to a new lead.
Then create a new sales goal based on what you've discovered.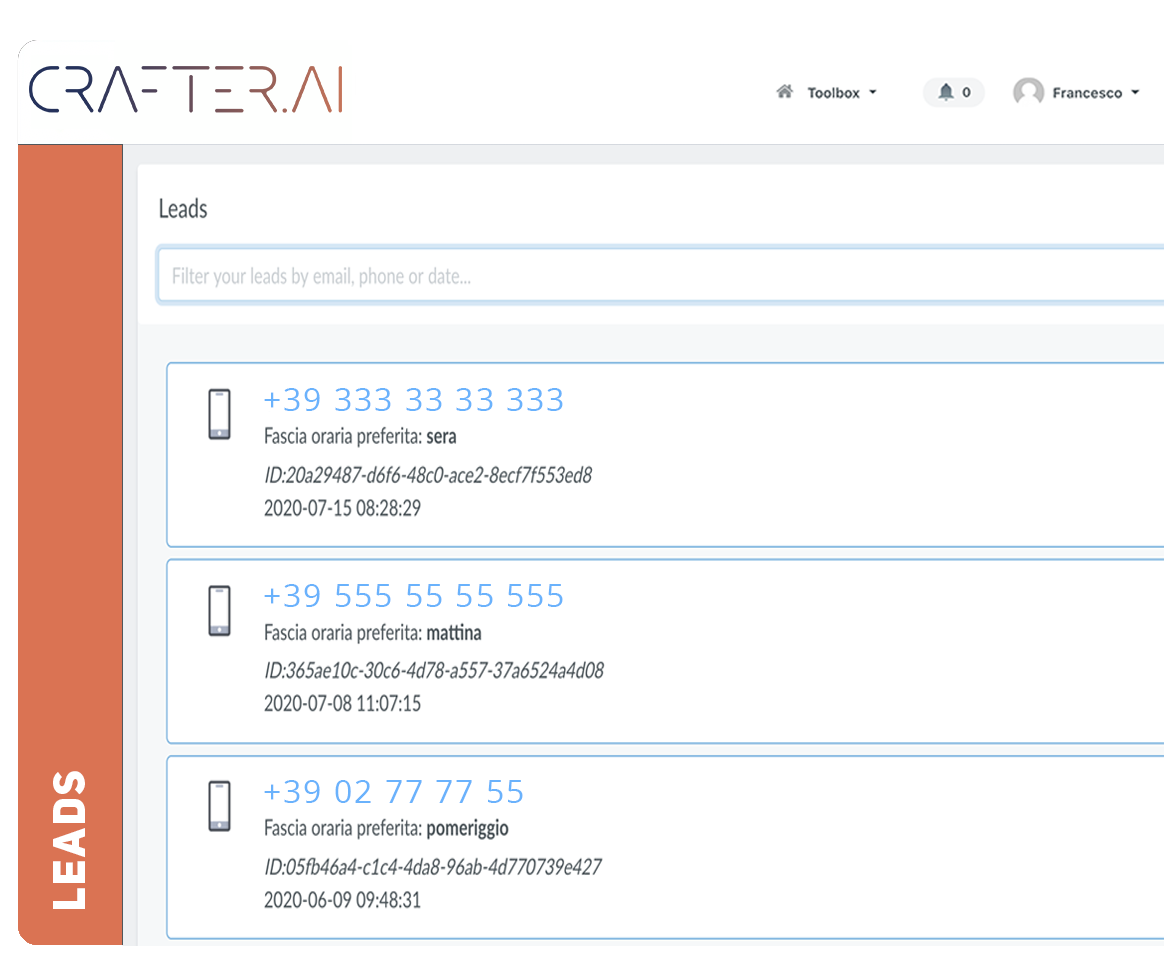 We will contact you just to schedule your demo day.
You can integrate your ERP, CMS, CRM systems and much more.
Our bots can use the API of your systems (Sap, Microsoft Dinamycs, salesforce.com, etc…) to obtain the information useful to manage the conversation with your customers in the best way.
Our platform contains a number of brains (brains or features) to automate your business processes.
Contact us if you need a custom brain for your specific business domain.
CRAFTER.AI™ Conversational AI agents can speak any language.
Contact us if you need your virtual agent to interact in a specific language.